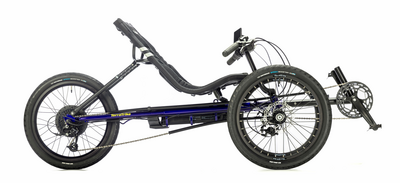 Amplitude for All Entry level has never before brought so much value.  The Charge features a torquey Promovec hub-drive motor with 250W of power and 43Nm of torque, paired with a 374Wh battery to keep you riding longer.  All of your riding, motor and battery data is viewable from a large, full color display that is easy to read on the go. While riding down your favorite trail one can't help but notice all the creature comforts of the Charge. The plush ride of the extra wide 20x1.95" tires help keep trail bumps and divots at bay, while the wide seat frame and padded seat mesh with cushioned side bolsters take comfort to the next level. Unlock a world of new exploration without sacrificing quality or your wallet! - Promovec 50750-BL Motor - DT2 36V-374Wh Battery - Walk assist plus 4 additional levels - 275 lb weight capacity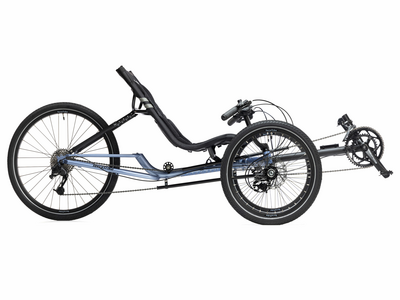 Command the Road in Style and Comfort! The Gran Tourismo is alluringly sophisticated with exhilarating performance resulting in the ultimate touring machine. With a nod to the original Tour, the GT is the culmination of over 20 years of continuous innovation and customer feedback, resulting in the most comfortable and best handling TerraTrike to date! The Y-frame design adds strength while allowing for additional heel clearance and ease in getting in and out. The new triangulated rear end adds pedaling efficiency, better aerodynamics, reduced pedal steer and lower center of gravity so that you "stick" to the road even at higher speeds. The GT also comes standard with a 24" rear wheel for higher top-end speeds, smoother rolling over bumps and retaining momentum. The Gran Tourismo also features an extended seat frame with an upgraded seat mesh, contoured to give additional support and comfort and padded in "all the right places!" This is by far the most comfortable seat TerraTrike has ever produced! The depth of the "wet" paint colors is stunning and limited edition colors will be offered periodically. The Gran Tourismo is the perfect trike for a cross-country adventure, your daily commute or a leisurely trail ride to your favorite destination.
This second-generation Rambler is destined to become a TerraTrike best seller. The Rambler has the same high seat and Y-frame design as its predecessor, but with many upgrades for riders who want to go faster and farther. It now has a wider track for better handling and larger 24" wheels for even more versatility. What really sets the Rambler apart, however, is the feel of the ride. It responds beautifully through corners and the lightweight chromoly steel frame ensures a smooth ride. The Rambler is designed to do it all without sacrificing comfort or ease of use. With its acceptance of a large range of TerraTrike accessories, it makes a perfect platform to create a trike for your specific needs. The Rambler comes standard with 24 x 2.15" tires with many optional widths possible to help take you wherever you ride. The seat mesh is breathable and is fitted across a durable wide steel seat frame. Along with standard disc brakes and full seat adjustability, the Rambler is a quality machine for casual and serious riders alike. The frame comes in a fresh Solar Yellow finish with complementing graphics.